'I have always felt that playing a part in a couple's unique celebration is one of the greatest joys of my work. I believe creating precious symbols of love to be treasured forever is a kind of magic that lives at the very heart of what I do. However you wish to display your commitment to one another, why not get in touch and arrange an informal consultation? Together we can create your one of a kind piece of jewellery and with it, the beginning of a very special story'
Anna Loucah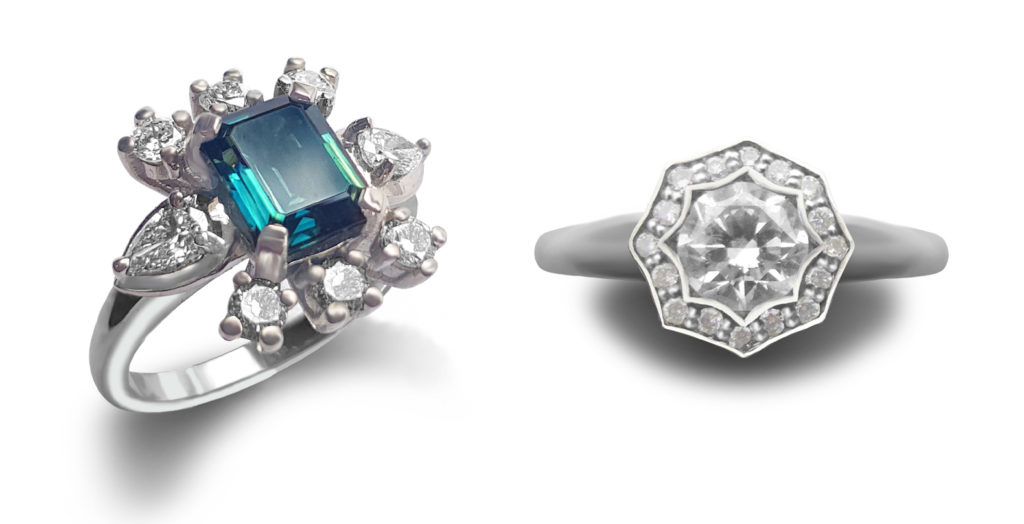 1. 'Cluster' rings – learn more
stones set closely together around a centre stone
great way of emphasising its dimensions and forming a distinctive shape
use to create the illusion of a large centre stone
For more information on setting styles take a look at my introductory guide here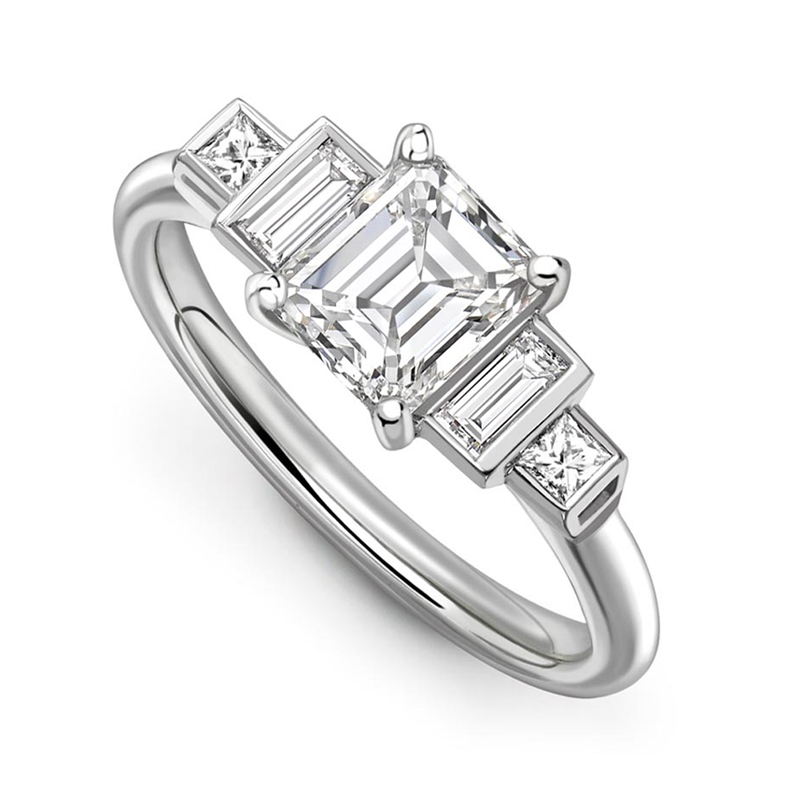 "Anna Loucah is a great artist and dedicated craftswoman. From conception to completion, she was always available, and the communication with her was easy and fluent."  
Guillermo del Rivero Dehesa
2. 'Fancy' cut gems – learn more
the term 'fancy' is generally used to describe any stone that isn't round or 'brilliant cut'
soft and geometric shapes which can bring a more sculptural design
geometric stones offer elegant and mirror-like symmetrical planes
For more information on setting styles take a look at my introductory guide here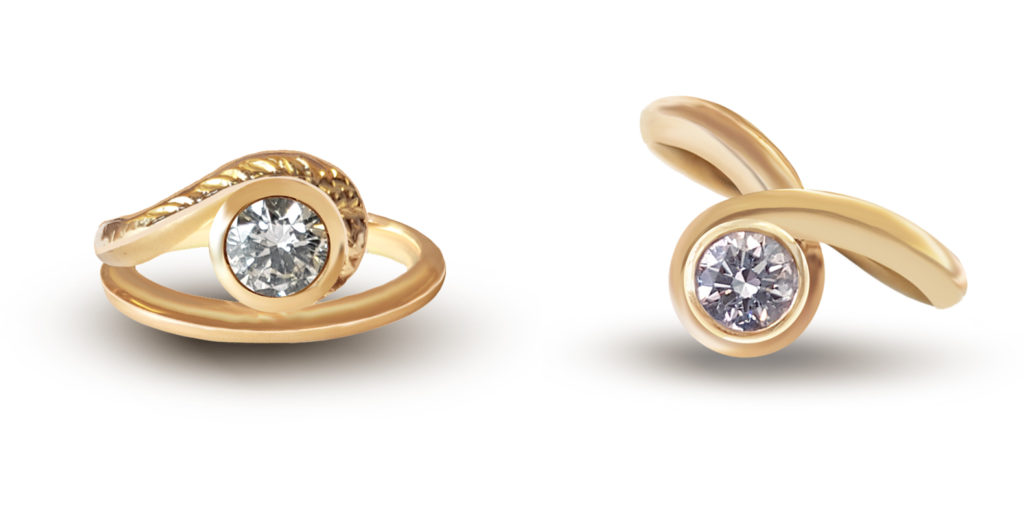 3. Asymmetric design – learn more
popular with more organic and ethereal styles
excellent way of framing a centre stone
provide exciting opportunities for a uniquely shaped wedding band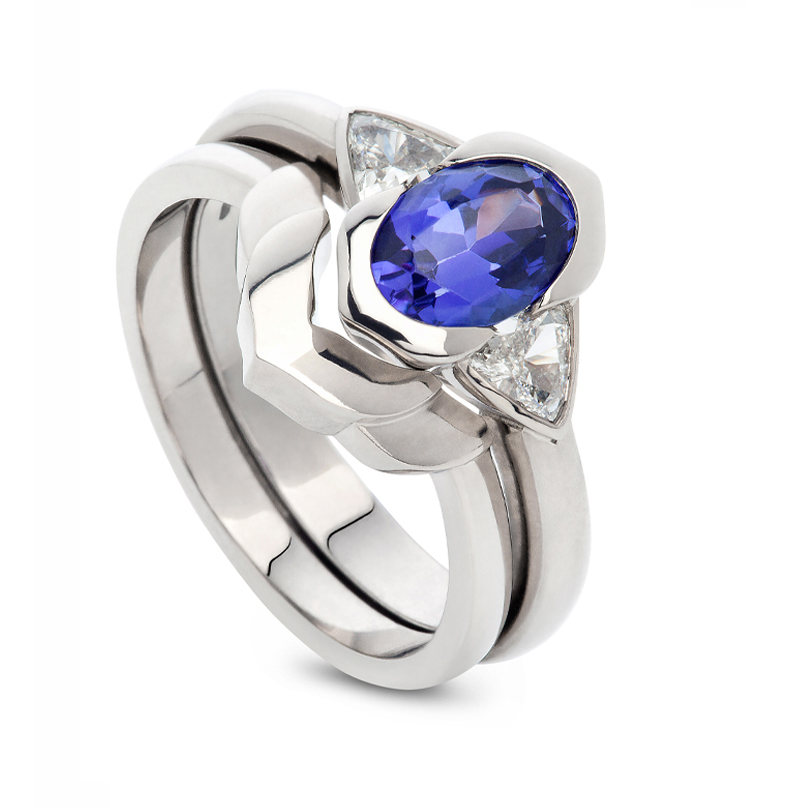 "It was important to my wife and I that the people who mined the gold and stones for our rings were paid fairly and worked in safe conditions. Anna had been recommended to me as one of the best Fairtrade designers to work with and she absolutely lived up to expectations!"

Matthew Bates
4. Coloured stones – learn more
great way to add an eye-catching feature to an engagement ring
add a twist to a more classic style or bring elegance to a bolder design
don't forget gold comes in a range of colours too!
For guidance on the wide range of ethically sourced, coloured gemstones that are available, just get in touch.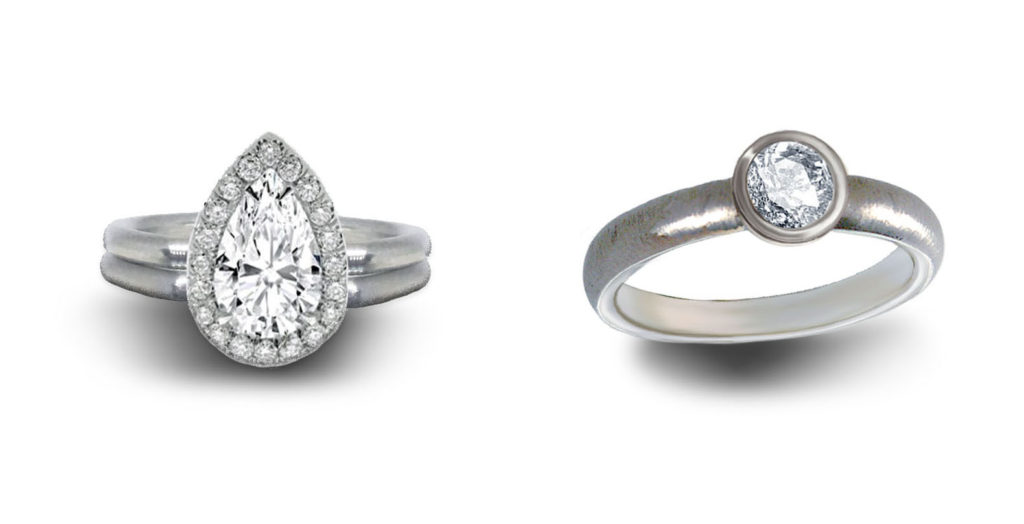 5. 'Lab grown' diamonds – learn more
increasingly popular with those seeking an alternative to mined diamonds for reasons of both ethics and cost
chemically, structurally, and optically identical to natural diamonds
To discuss the option of using a lab grown diamond in your ring please get in touch.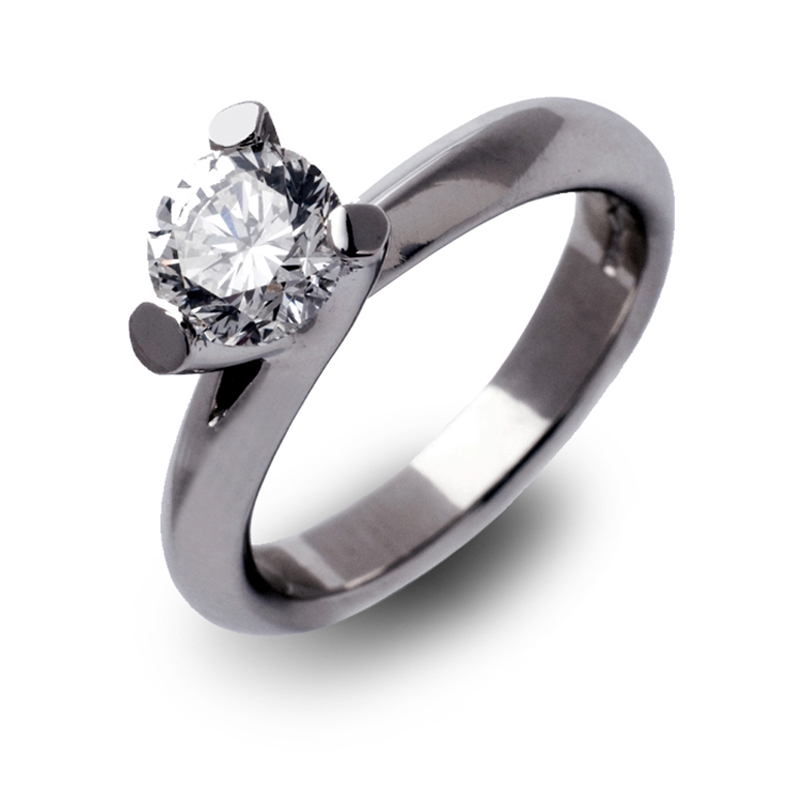 "I can't believe how many compliments I have had on my beautiful ring! Anna is a professional and great to work with and I wholeheartedly recommend her."

Joanne Cherrie
6. The 'Solitaire' – learn more
an eternal classic
brings the main focus to the gemstone
unique touches can be added by details such as a careful choice of setting and metal
For more information on setting styles take a look at my introductory guide here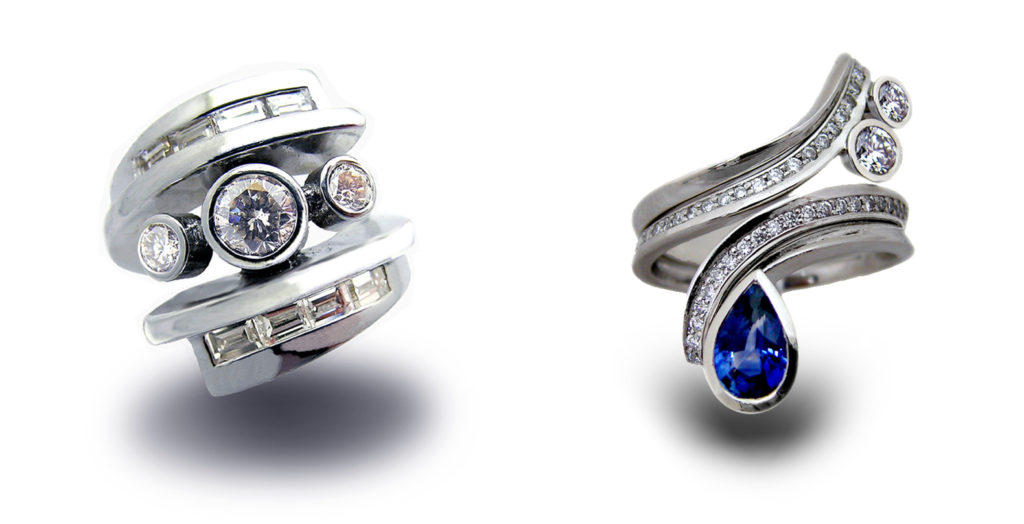 7. Remake and remodel – learn more
great way of keeping memories that are attached to family heirlooms
provides options around cost, sentiment and ethics through recycling
perfect for creating a future heirloom of your own!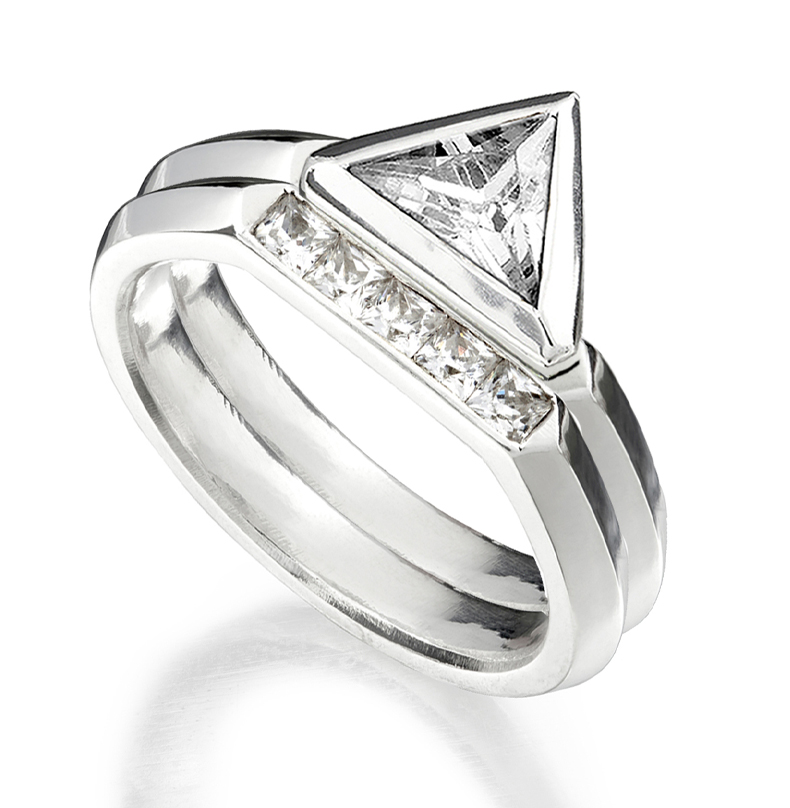 "We both had a lot of fun through the design process with Anna. Nothing was too much trouble. Sophie's rings are exquisite, totally unique works of art. We couldn't be happier, and have recommended her to all our friends!"

James Goldsmith
8. Stack rings – learn more
provides opportunity to create a constantly growing and unique collection
perfect for celebrating life's important dates and occasions
allow for creativity and variety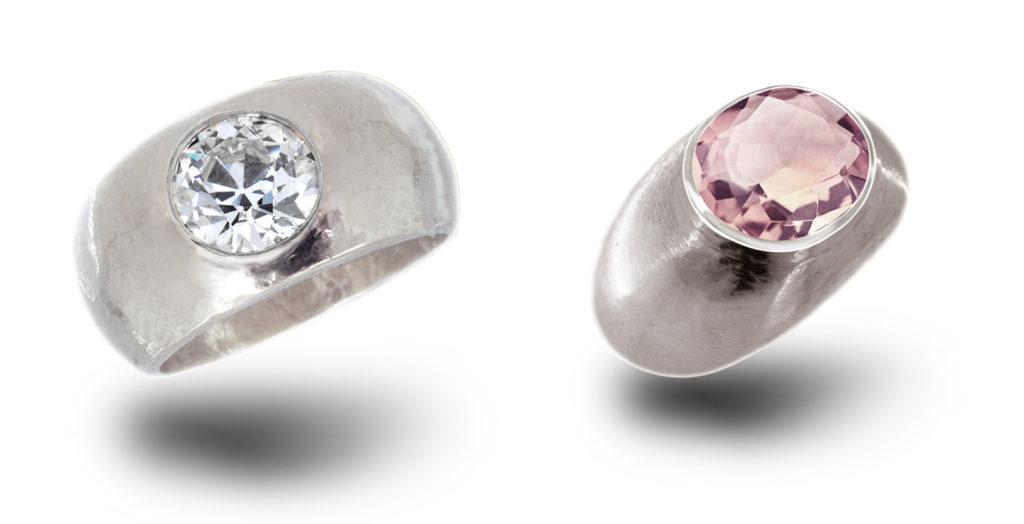 9. The 'Gypsy' ring – learn more
chunky shape and bold use of precious metal
ideal for those looking for one standalone statement ring
smooth form and unfussy setting style offer a practical addition to a busy lifestyle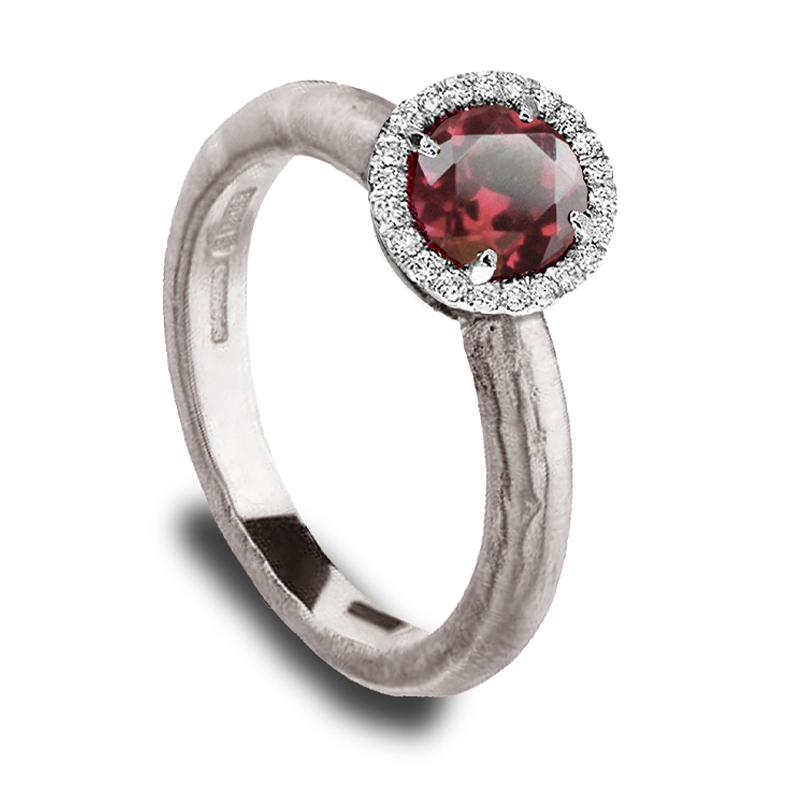 "Anna truly put us at ease and played a wonderful part in our wedding experience. I thought I knew what I wanted for my ring but she opened my eyes to other possibilities. We are incredibly happy with the final result, all the more so in the knowledge that materials are ethically sourced and benefit a local community. Thanks Anna!"

Alexis Parks
10. 'Halo' setting – learn more
neat placement of multiple same sized gemstones following line of the centre stone
can make the centre stone appear larger and introduce an element of sparkle to opaque stones.
option to experiment with contrasting gems or metal types
Anna is a specialist in bespoke jewellery and personally creates all unique pieces in her central London studio. She combines traditional goldsmithing techniques with artistic flair and uses her gemmological training to hand select gemstones and provide expert advice on materials.
Always available should you wish to contact her, Anna will guide you through your design journey, ensuring that the experience is as pleasurable and enchanting as it deserves to be.
THE Bespoke Process:
---
PERSONAL CONSULTATION
This first step presents the perfect opportunity to discuss inspiration, costing and intention. Scheduled to fit perfectly with your calender, we arrange an initial, no commitment consultation. Whether it be in person, via email or by a virtual appointment, the most important thing is that this is a relaxing and magical experience from beginning to end.
DESIGN APPROVAL
Once cost and concept have been agreed you will receive the first glimpse of what is possible – a selection of hand drawn designs presented for your consideration. At this stage you will also be enticed by a selection of hand picked gemstones and advised on options and possibilities.
CREATION
After ensuring complete satisfaction with your choice, work begins on bringing your dream jewellery to life…during this stage you will receive regular updates and be made to feel comfortable about getting in touch at any time with questions or queries.
THE BIG REVEAL
With all steps conducted either remotely or in person, 4 – 6 weeks is all that is needed for your completed piece to be ready for collection! Are you ready for that magic moment?
Arrange A Consultation
Arrange an in-person or online consultation with Anna to discuss design inspiration, costings and intention.