'I have always felt that playing a part in a couple's unique celebration is one of the greatest joys of my work. I believe creating precious symbols of love to be treasured forever is a kind of magic that lives at the very heart of what I do. However you wish to display your commitment to one another, why not get in touch and arrange an informal consultation? Together we can create your one of a kind piece of jewellery and with it, the beginning of a very special story'
Anna Loucah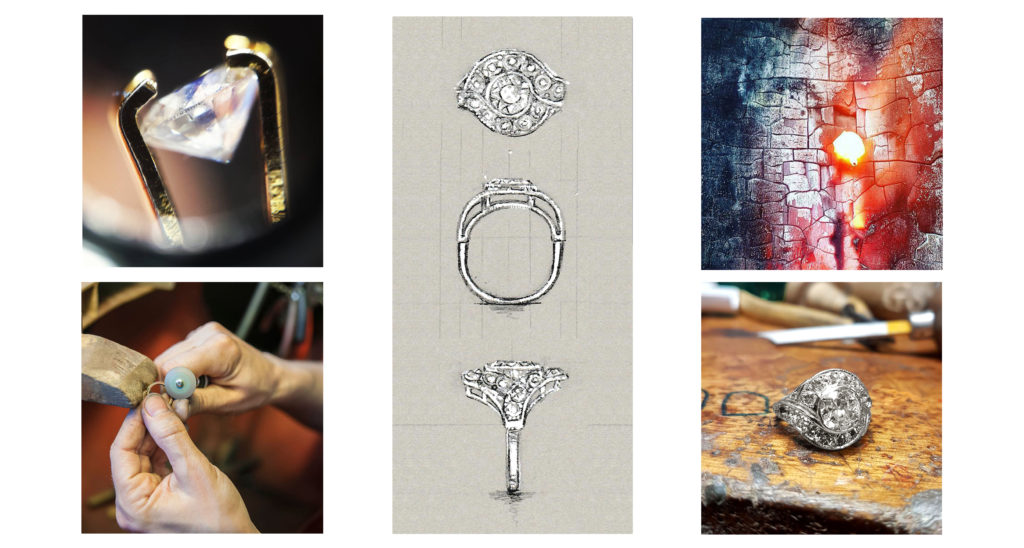 Anna is a specialist in bespoke jewellery and personally creates all unique pieces in her central London studio. She combines traditional goldsmithing techniques with artistic flair and uses her gemmological training to hand select gemstones and provide expert advice on materials and sourcing.
Always available should you wish to contact her, Anna will guide you through your design journey, ensuring that the experience is as pleasurable and enchanting as it deserves to be.
THE Bespoke Process:
---

PERSONAL CONSULTATION
This first step presents the perfect opportunity to discuss inspiration, costing and intention. Scheduled to fit perfectly with your calender, we arrange an initial, no commitment consultation. Whether it be in person, via email or by a virtual appointment, the most important thing is that this is a relaxing and magical experience from beginning to end.
DESIGN APPROVAL
Once cost and concept have been agreed you will receive the first glimpse of what is possible – a selection of hand drawn designs presented for your consideration. At this stage you will also be enticed by a selection of hand picked gemstones and advised on options and possibilities.
CREATION
After ensuring complete satisfaction with your choice, work begins on bringing your dream jewellery to life – using only the finest materials sourced with the greatest environmental sensitivity. During this stage you will receive regular updates and be made to feel comfortable about getting in touch at any time with questions or queries.
THE BIG REVEAL
With all steps conducted either remotely or in person, 4 – 6 weeks is all that is needed for your completed piece to be ready for collection! Are you ready for that magic moment?
Arrange A Consultation
Arrange an in-person or online consultation with Anna to discuss design inspiration, costings and intention.