'Jewellery carries with it so much sentiment and tradition – perhaps none more so than the wedding ring. And so what could be more special than handcrafting each others rings as a celebration of your union? In a personally tailored and informal day I will help you work together to create that most unique piece of jewellery – guiding you through traditional goldsmithing techniques and ensuring that you both have a wonderful and memorable day. I look forward to welcoming you to my studio and accompanying you through this fascinating process.'
Anna Loucah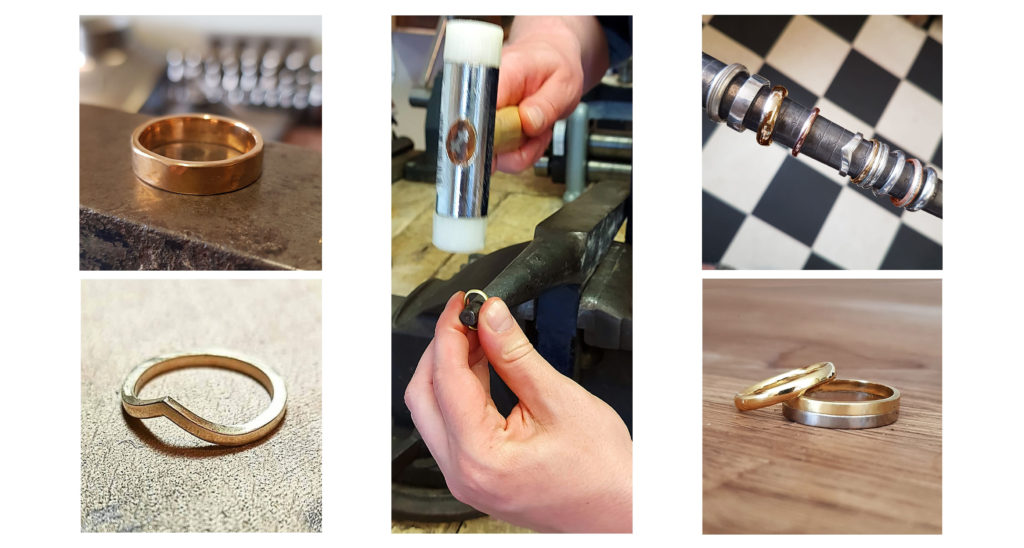 about the day – faq's


HOW MUCH DOES IT COST AND WHAT IS INCLUDED?
The full day is £335 per couple and this includes plenty of tea and coffee, refreshments, a deliciously decadent lunch and of course a celebratory glass of bubbly! 
Also included is a complimentary consultation at the studio to discuss and decide on design and metal choices. This session will take place approximately 2 weeks prior to the workshop date.
Upon collection your rings will be presented in a luxurious top quality ring box.
The price does not however include the cost of any materials – these additional costs will be determined during the consultation.
HOW FAR IN AHEAD OF OUR WEDDING DATE DO WE NEED TO BOOK?
A design consultation is included free of charge in order to discuss design and metal options. The consultation will be approximately 2 weeks before the workshop takes place.
After the date of your workshop day, 3 weeks is a comfortable amount of time for most couples, but if you require additional extras such as engraving then 4 weeks would be advisable.
HOW MANY OTHER COUPLES WILL BE THERE BE ON THE DAY?
Just the two of you and Anna. It is not a group workshop so you will receive full attention at all times ensuring that you are comfortable and can be confident of creating two perfect rings by the end of the day!
WHAT ABOUT DESIGN? NEITHER OF US ARE SURE WHAT WE WANT.
Anna will provide a full, detailed and free of charge design consultation 2 weeks before hand – either in person or remotely. During this consultation Anna will provide full guidance on choices of size, shape, width and metal. Simple bands tend to be the most satisfying and easy to achieve within one day but should you require something more complicated – such as fitting around your engagement ring – that can also be discussed.
FULL DETAILS CAN BE FOUND ON THE DEDICATED WEBSITE
Arrange A Consultation
Arrange an in-person or online consultation with Anna to discuss design inspiration, costings and intention.