We interviewed Kathryn Bishop – a writer and researcher who specialises in future trends reporting for major global brands across luxury, entertainment and media. Here Kathryn draws upon her years of experience as a jewellery journalist to describe how her favourite pieces have come to define her style and why the enduring charm of the charm will be something she treasures for ever!
Q: What's your favourite piece of jewellery?
A: The two silver ingots that I wear on a chain. When I was younger I'd always see one in my dad's messy drawer and one in my mum's jewellery box and for ages I always assumed it was just one that I'd keep finding. But I then realised they had one each!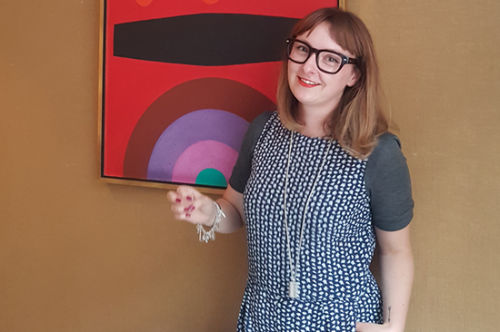 Those are probably the first piece of jewellery I really looked at and questioned and Mum explained that her and my dad bought them for each other shortly after they'd first met to mark the Queen's Silver Jubilee in 1977.
Years later I started working at a jewellers and searched for a chain for them and I've worn them ever since! about telling stories and having connections with people that have given them to you or that are from their pasts.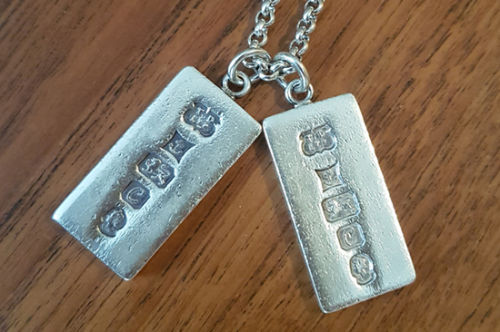 Q: How does it make you feel when you wear the ingots?
A: They are like a kind of amulet really. It's the simplicity and feeling of closeness with something, – they are so heavy and tactile and they have a lovely sound to them.
They've taken on so many beautifully worn marks – it's like me having mum and dad with me at all times so they're the type of necklace I'll put on when I just want a bit of a homely feeling.
"I've learnt that you buy and give jewellery for a reason not just for the sake of it."
Q: Has jewellery always meant something to you?
A: We're not a family with lots of jewellery and have always worn very simple pieces but my Mum has a charm bracelet laden with charms that I've always loved and used to sit and play with for hours. She doesn't actually wear it – it's more of a memory-keeper than something she wears every day.
Similarly my dad didn't wear his wedding ring, it sat in a prominent place in the house but he'd never wear it so I grew up thinking that jewellery meant something.
"My jewellery box is definitely a place of comfort – I can open it up and decide what mood I'm in that day."
Q: Do you have any other meaningful pieces?
A: My own charm bracelet. On our 10th birthday my sister and I were given silver charm bracelets by our Mum – probably inspired by the significance she placed on her own bracelet. Since then, every Christmas, birthday or achievement would be occasion for a new charm.
My first charm was a chunky little silver pig because I loved pigs then and still do! My charm bracelet is probably similar to my mums, I just keep it in a little pouch in my jewellery box that I might wear on a birthday or a special occasion, but is mainly a representation of years of my life. I bought myself a ladybird charm the other days because it reminded me of my nana, the pop of colour and the bubbly round personality.
Q: What does value mean to you when it comes to jewellery?
A: It's always about its sentimentality and the meaning behind things. I've collected a lot of jewellery but realistically I only wear about 10 things all the time. I could spend all day talking about what's in my jewellery box!
I have quite an eclectic mix; there might be a Tiffany piece next to something bespoke. My mum tells me the story of her and my auntie going to Harrods to buy me a Tiffany bracelet for my 18th birthday because that's what everyone received back then. The story that they described for me was important regardless of what the piece was.
The significance of the memory that they created in buying me that bracelet is very important. I've learnt that you buy and give jewellery for a reason not just for the sake of it.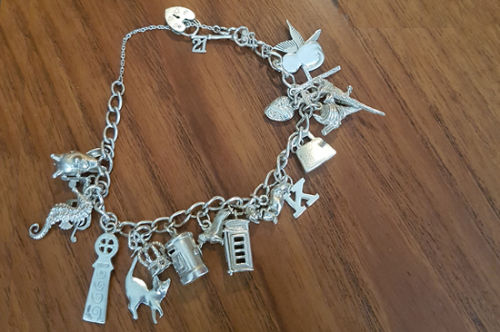 Q: Do you think jewellery and clothes play a similar role as a form of self-expression?
A: I like to get creative with both, but I think jewellery is always the finishing piece. I like signet rings so much because they're smooth and stack up quite nicely and all have a different story or meaning. They're quite a masculine product, and all of mine are silver apart from one 9carat gold on that I got for my 21st birthday. I got that one engraved with 'La vie est belle' – life is beautiful in French – I also have it written on a fun beret a friend gave me at uni! I just loved the sentiment, that even if you're having a bad day you can just look down at the ring and realise things aren't so bad- I've worn it everyday since.
The other one that I wear all the time I was given by a very good friend of mine when I was her maid of honour last year. She engraved the Greek word 'philia' on the inside, which means 'the love you feel for a friend.'
My jewellery box is definitely a place of comfort – I can open it up and decide what mood I'm in that day.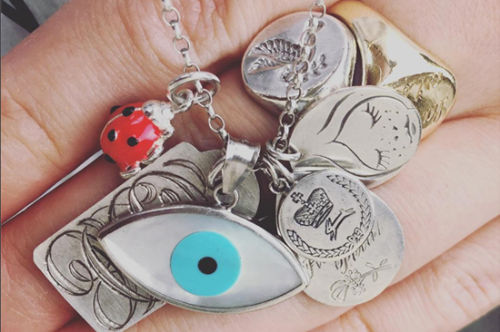 Q: Do you think jewellery has changed over the years?
A: Through my work I got really interested in the fashionable side of things and I was excited by how jewellery had entered this more mainstream position – it has become really democratised now, and there's much more self-purchasing – this is partly due to changing women's attitudes, you don't necessarily always wait for someone to buy jewellery for you – if I see something now that I like, I'll absolutely buy it for myself.
"If I see something now that I like, I'll absolutely buy it for myself."
A focus on provenance and sustainability are also growing, especially with jewellery – people want to know where it's from, who made it, where the stones are from – it needs to feel real.
Consumers are becoming more accustomed to a higher level of customer services so personalisation and bespoke pieces are rising in popularity. We're putting the value into jewellery by knowing we've made our mark or made our own stamp on that piece of jewellery.
I would love a piece of Fairtrade gold jewellery one day because I think it has even more of a warmth and a great story to it.
Q: How comfortable do you feel in sharing the stories behind your jewellery with others?
A: I'm more than happy to talk to people about my jewellery. My natural nosiness and curiosity means I'm always intrigued to know why someone's wearing a certain piece and where it's from. Discussing the stories behind our jewellery is a good way of bonding in my opinion.
Q: Do you make assumptions about someone based on their jewellery?
A: Jewellery says quite a lot about someone because we place so much importance on it ourselves that when we choose to wear a piece it is a statement. Women are increasingly having a say into their bridal jewellery, including upcycling or remodelling family pieces. I think it's lovely now that people are making the effort for an engagement ring to be a reflection of someone's personality.
I recently helped a friend of mine chose a ring for his partner, and he got it absolutely spot on because he saw sides of her personality that I didn't necessarily see – and the ring made me see her through his eyes and that definitely changed things.
Getting to know Kathryn in a few words…

Personal Style?
A: Playful, boyish, patterned
Personality?
A: Inquisitive, fair, peacemaker, silly and naughty
Jewellery style?
A: Sentimental, trinkety, silver
Favourite gemstone?
A: Sapphire, because it comes in every colour! If I were to be married I'd have a band with rainbow sapphires
Birthstone?
A: Opal, but I don't have anything opal – probably because I know it's very delicate and I'd be nervous I would smash it!